The Albion in Goldsmiths Row
Mark Mansell - Albion fan, BOING reader and resident of Great Yarmouth - heard tales of a pub devoted to West Bromwich Albion in the East End of London and offered to find it and tell us more. Naturally, we accepted...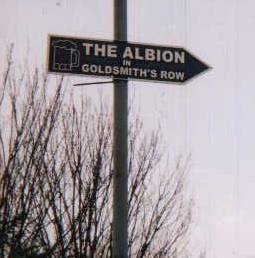 A sign! A sign!
Well, on a trip down to the big smoke to see our favourite band "The Libertines", my Baggie mate Johnny and I decided to pay a visit to the famed "Albion Pub" in Bethnal Green, London.
At least 45 minutes after leaving Bethnal Green tube station we were still in search of the Holy Grail (and a bit thirsty too!) having consulted streetmap.co.uk but having forgot to actually bring the printed map!!
Not to fear though, as after asking 4 locals and 3 cabbies (the cabbies had the worst sense of direction - but no suprise there) we latched on to a helpful local returning, presumably, from his job at Tesco's (the big yellow Tesco's jacket being a bit of a giveaway!!).
He wasn't sure himself actually until such time as we mentioned it had a big Albion plaque on the front of it. "Ahh, that one" he recalled. "Yeah, just up here - follow me."
Finally we'd arrived and shortly after we introduced ourself to "Dave", the proprietor and owner of this establishment, we were sinking our first pint and had ordered the in-house curry.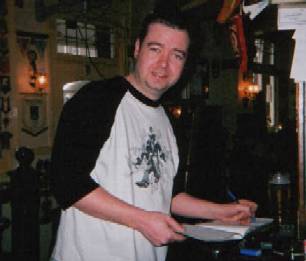 Mark signs the Guest Book
Shortly after, "Dave" showed us his plethora of Albion decor and his visitor books which we gratefully signed. Reading through the books I was able to pick up a few famous signatures - including Paul Thompson, Neil Clement and Brendon Batson amonst others. I also saw "Anc" & "Fin" which I assumed were Baggies.com game reporters (perhaps you can confirm that, Anc or Finbarr?).
We then proceeded to wax lyrical about all matters Albion and follow our heroes via Jeff Stelling and the Sky crew all Saturday afternoon on TV. "Dave" starting supporting Albion in the fifties after he decided to choose a team. This particular year was 1954. You do the math.
The funniest part of the afternoon was when "Dave" returned from the loo pronouncing "I often get a feeling when we score and I bet we have. You look" he said....
"Er, ok..." we said - but sure enough the Sky video printer reported just seconds later that we were winning 1-0 over Coventry City!
"Dave" stuck to his story but we soon cottoned on to the fancy phone he was in posession of. As the day wore on we suspected that his premonitions were in fact more likely, TXT goal alerts - especially as he had experienced his "Premenition" shortly after returning from the loo. I dunno, these London wide boys, LOL!
The pub itself is modest in size but very well kept with some clean modern brickwork outside defying the imposing suburban surroundings. There were about 4 TVs showing Sky games or the rugby all afternoon and the punters were of good character and well behaved.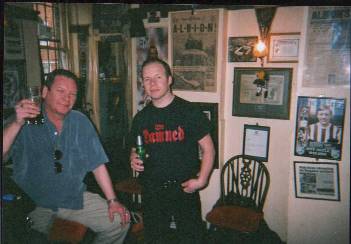 Dave, Johnny and Albion memorabilia
Inside, much Albion decor existed as well as plaques and flags from other teams around the pub. There are some custom made items including the big Albion plaque outside and the pub tables inside with Albion badges on the surface.
Shortly after the final whistle we departed with several beers inside us and thanked "Dave" for his hospitality.
To anyone visitng, please look the map up on www.streetmap.co.uk or something 'cos it ain't easy to find if you don't know!! But, definitley, well worth a visit. Equal distance to Palace, West Ham and Arsenal apparently, but as I pointed out to most in the pub, we'll only be playing ONE of those next year!!
Getting there
The Albion
94, Goldsmiths Row (Corner of Gold. Sq and Goldsmiths Row)
London
E2 8QY
Tel: 020 7739 0185
Nearest Tube: Bethnal Green
Nearest Main Line: Cambridge Heath
Multimap (pub is in the red circle): www.multimap.co.uk