Bob Taylor: An Albion Legend
When journalist Iain Bate contacted us to ask if we'd like to see his interview with Bob Taylor, it wasn't a very hard decision to make! Thanks again to Iain, who we hope will do a few more like this for us in the future...
In modern day football, there are not many professionals that can truly say they loved the club they played for, and in return, were loved back. One such professional is Bob Taylor or ?Super Bob? as he is known world-wide to Baggies fans, and the club which he holds a special place in his heart for is West Bromwich Albion. In this interview, we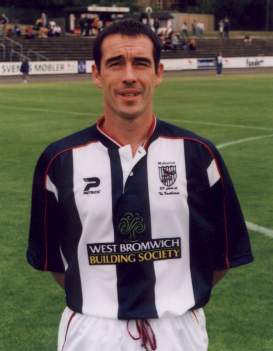 Photo: Dean Walton

follow Super Bob through his career from his first spell at West Brom, to his move to the Premiership, back again to West Brom and now to his current club, Cheltenham Town.

The striker, who helped West Brom get promoted, then save the club from relegation and then get the club promoted again, talks about his life at West Brom and what he hopes to do next. ?I first joined from Bristol City. To be fair I?d been very successful, scored about 50 goals and we got promoted to the First Division. Things were going well, but the manager left for Hearts and the new manager brought in a few new faces and I dropped down the pecking order. I was living in Newcastle at the time, my mom had just died and I had a six month old baby, so travelling for 5 hours a day was too much. The manager came to me one day and said the club had accepted an offer from West Brom for ?300,000, which was a lot of money in 1992. I didn?t really want to go, but I spoke to Bobby Gould, who was manager there then, and within a few days I?d signed for the club.?

Things did not start that well for Bob at West Brom and within six months of signing, Bobby Gould was sacked. The board of directors at West Brom then replaced Gould with Argentinean legend Ossie Ardilies. ?We all knew about Ossie when he took over from Bobby. To be honest I?d wondered what I?d got myself into because I?d only signed six months earlier and then Bobby got the sack. I?d played against Ossie?s teams before when he was manager of Swindon, so I knew the style of play he used. The motto was ?if they score 4 then we?ll score 5?. I was a little bit worried though, because I didn?t know if I?d be good enough to play in his team but luckily enough everything worked out fine, and in a football sense, he was the best manager that I?ve played for.

As a result of Ardilies? appointment, West Brom secured promotion via the play-off final at Wembley in the 1993/94 season with a 3-0 win over Port Vale. In that season, it was Bob who first got the nickname of ?Super? by scoring 37 goals and building up a striking partnership with Andy Hunt, who had signed from Newcastle. The partnership lasted for the next few seasons, and in Bob?s opinion, was the best of his career. ?Me and Hunty hit it off straight away. Andy was a bit like me, the fans liked him and he was level headed, but he never got above his status. If one of us wasn?t scoring then the other one was. We also read each others game really well, which helped a lot. Andy was good in the air, won a few flick on?s for me, and I used to hold up the ball and bring Andy into the game. We never worked on it either, we just clicked, the only time I can remember us working on our game was when we used to do shooting practice in training.?

Although, the Taylor and Hunt partnership blossomed, West Brom didn?t and struggled for the next few seasons. As a result, both Hunt and Taylor left the First Division for the Premiership. At first, Bob was pessimistic about leaving but it turned out to be one of the best decisions of his life. ?There was a lot of issues within the club. The manager wanted me to go on loan and I didn?t want to go at first. It was a major wrench to leave but, in the end, I went out on loan to the Premiership to Bolton. I loved it, I scored against Manchester United at Old Trafford, and against the Villa at their place. I was living out my dreams.?

Although Bob only played 14 games for Bolton, 2 as a substitute, he still regards it as one of the best times of his career. ?I played a few games for them, scored a few goals as well. I was never going to win the F.A cup or anything like that, but it?s what you dream about as kid.?

Taylor signed permanently the next season for Bolton Wanderers, and played over 80 games scoring 24 goals for the Trotters. Taylor returned to his footballing home, the Hawthorns, on transfer deadline day in 2000, on the same day as 4 other players. With West Brom poised to be relegated, Taylor?s 5 goals in 8 games kept the Baggies safe from relegation. ?I got a phone call asking me if I?d like to go back to West Brom and I jumped at the chance. I didn?t even think about it, my heart ruled my head really. When we secured safety on the final game of the season against Charlton it was a great day. To see the fans ?Boing-Boinging? again was fabulous. I did an interview after the match and I said that a club of the size of West Brom shouldn?t be celebrating staying in Division One.?

Most of the credit for keeping the club in the division was shared between Bob and the new manager, Gary Megson. However, in the next two seasons that followed, West Brom, under Megson and with Taylor in the team, finished in the play-offs and then got promoted automatically, with Taylor scoring the goal against Crystal Palace that secured promotion to the Premier League.

Unfortunately for Bob, he only played six games for the Baggies in the Premier League. ?I?d have liked to have played more. I?ve played in the Premiership before with Bolton but to play there with West Brom was special. I?d worked hard for 10 years of my life to get there and to come on in the first game against Man United was special for me. My only wish was if I could have got a goal for West Brom, which really would have been the icing on the cake for me.?

Bob?s contract ran out at the end of that season ? his testimonial year - and the club decided not to renew his contract. Bob played his last game for his beloved club on the last game of the season at home to his home town club Newcastle United. ?There was a clip on the video of me walking off when I was being subbed with tears in my eyes. It wasn?t really that it was to be my last game for the club, it was because my testimonial was in 2 days time and I didn?t know if I?d be fit, so I was really disappointed."

Bob left the club a true fans favourite, after playing over 300 games for the Baggies, and signed for the manager who, ironically first signed him for West Brom, Bobby Gould. The proverb tells us, that lightning never strikes twice but unfortunately it did for Bobby Gould, and he was sacked only weeks after Taylor had arrived at Cheltenham.

?I signed for Cheltenham at the start of the season, after having an operation on my knee in the summer. I?d only been here for two months and Bobby got the sack, I think I must have the curse on him!? Although Bobby Gould left the club, Taylor still feels that Cheltenham can still have a good season. ?When I signed for the club we stood a good chance of bouncing back up to Division Two, but the club released a lot of professionals in the summer and there is a really young squad here now. When I first came it was like training with the Albion again because of all of the youngsters here, but hopefully we?ll have a good season.?

Bob is undecided where he will go at the end of the season, and hasn?t ruled retiring from football and going into coaching or even fulfilling every Albion fans dream of once again returning to the Hawthorns. ?I?m not looking beyond this season. I?m really going to struggle with fitness because of my operation in the summer, which kept me out for 6 weeks. But if I can score a few goals and keep my fitness up then who knows. If my body can take another pre-season then I?d definitely play on, but I don?t know how long my legs can take running after those 20 year olds!

"After I left West Brom the first time, I said I?d never go back, so I?m never going to say never. I?ve got the 1st part of the UEFA badge which I did at Bolton, but I need to do the other part to complete it. If I walked away from Cheltenham at the end of the season, and didn?t complete my badge, then I?d definitely say no. But, sometimes it?s not what you know, but who you know. I?d like to work my way up, starting with the kids and then up from there. Coaches need respect, and you only get that by working your way up. I?d love to half believe that one day I?d return to West Brom. It would be difficult though, the fans hold me up there with the like of Jeff Astle, Bomber Brown and I would hate to think that if I didn?t succeed that the club or the fans would turn against me."

Taylor is correct in his last comment, that he is regarded as a West Brom legend, and in generations to come, sons will ask their fathers, ?Where were you when Super Bob scored the goal which got us promoted?? One thing is for sure though, if Bob Taylor were to return to the Hawthorns, the fans certainly wouldn?t turn against him.