The 1999 Power Struggle Diary
The chronicle of Paul Thompson's attempts to remove Tony Hale from the West Bromwich Albion Board
The Buildup
Albion Director and largest shareholder Paul Thompson resigns from the Board. Tony Hale plays the issue down somewhat, saying "When Paul came he always said he would remain two to three years on the Board. This has not come out of the blue." However, rumours abound of a Boardroom split and Thompson's disillusionment with his investment in the Club
Albion Director Barry Hurst resigns from the Board. At a meeting convened to discuss the state of negotiations regarding Lee Hughes, Chairman Tony Hale reveals that he has received a letter from shareholder and former Director Paul Thompson in which he states that he will be attempting to remove Tony Hale from the Chairman's seat. Hale asks for his Directors to either give him their full, unconditional support - or resign. Hurst feels he is unable to give this support - and resigns. Following Barry Hurst's offer of an interview to discuss the reasons for his resignation and the future of the club, we invited BOING readers to submit questions to him; read the results of the interview here. Thanks again to all those who submitted questions - the response was tremendous. Our thanks also to all those who've commented on the interview and how useful they found it.
Tony Hale had the following to say about Hurst: "The Board has to be united to go forward, I did ask for support from around the table and I had support from all the directors except Mr Hurst. I asked him to go away and think about it. For a long period of time I have tried to get a united Board. Without one it's impossible to run the club properly. If he felt so strongly why didn't he resign earlier?" When asked about a replacement for Hurst, Hale said "There's no immediate rush, but we will sooner or later bring in someone"
Paul Thompson writes to the club to request that an Extraordinary General Meeting (EGM) be called to dismiss a motion to remove Tony Hale as Chairman and Director of West Bromwich Albion plc. Whilst stating that he didn't want the job himself, he did say that he would be prepared to fill the role on a temporary basis while we looked for someone better. In an article in the Daily Express, Thompson is said to criticise the flotation of the club, and that an opportunity to raise 10 million pounds had been lost. However, the exact means in which Thompson was suggesting that they could improve on the time under Hale's leadership are, as yet, unknown
Albion Vice-Chairman Clive Stapleton resigns from the Board. Clive's reasons are basically the same as Barry's and we hope to talk to him in person in the very near future to put something together for this page.
Paul Thompson writes to all shareholders to explain his reasons for calling the EGM to dismiss Tony Hale. Read the full text of Paul Thompson's letter to shareholders. Basically, he cites the lack of progress on the pitch over the last five years since Hale took over, and says that not enough quality decisions have been made. He also invites shareholders to one of two informal meetings at the West Bromwich Moat House for him to put his views forward alongside former directors Hurst and Stapleton, who are backing his call for the EGM.
One of the arguments being put forward in favour of Tony Hale resigning is the lack of progress in the League under his leadership. Simply listing the positions for the last five years makes it hard to visualise, although it's immediately apparent that there are too many double figures in there. So we thought the following graph might help: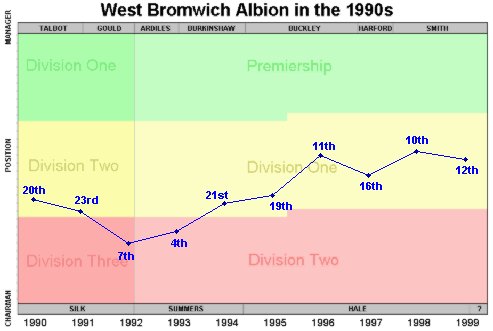 Disappointment - or steady progress?
Note: This graph is a revised version of the original one - unfortunately we made a mistake which meant that the 11th place was shown below the 12th place. The graph shows our place in the top three divisions relative to all other teams - so it takes into account the reduction of the number of teams in the Premiership which effectively moved us up two places (slightly exaggerating our jump from 19th to 11th - although it could be argued that with two extra Premiership teams coming down that Division One got a bit harder)
The Birmingham Post contains a report which makes it clear that Denis Smith will not be able to sign any players until after the EGM (which has been arranged for July 8th). Smith said: "I think there will be money available once the EGM is resolved. Until then, no-one knows what is going to happen. It's a situation that nobody is happy about, but hopefully things will get sorted out and the club can move forward."
The first of the two meetings between the "Gang of Three" (Thompson, Hurst and Stapleton) and the bulk of the shareholders takes place at the Moat House Hotel. Bryn Jones went along and asked some questions - read Bryn's report of the meeting.
The second of the two meetings between the "Gang of Three" and shareholders takes place at the Moat House, and this time Chris Saunders went along - read Chris's report of the meeting.
Celebrity Albion fans Ritchie Woodhall, Matthew Marsden and former player Tony Brown call a press conference at which they give their full support to Tony Hale. They made the following points (thanks to Tom Ross of Capital Gold Birmingham for the report):
Tony Hale has been blamed for everything but the weather! They pointed out that The Gang of Three were on the Board that made all the so-called poor descisions. Why did it take so many years for them to resign from the Board? In their meeting the GoT accused Hale of being a Dictator and then claimed he was weak - You cant be both!!

Mr Thompson has promised sunshine around the corner, but has said he will not put a penny in of his own money!! Tony Hale has vacancies on the board that he is definitely going to fill with men with money. One of his possible directors is known to Marsden and he confirms he has plenty of money and will invest!

Tony Hale is a Fan. When he took over the club was in dire financial trouble - he and Waldron put in their own money. Since then as a direct result of Tony Hale the club have one of the best youth policies in the country, It's on its way to having one of the top training grounds in the country. However they recognise that things definitely have to improve on the pitch - they say Tony Hale WILL guide West Brom into the Premiership.

They also know there have to be changes, but they say Stapleton and Hurst going has paved the way for changes for the better. They say the atmosphere around the club - confirmed by shareholders chairman Don Beddard - is better than ever since those two directors resigned.

If Thompson wins he will have Hurst and Stapleton back on the board, once again causing a split with them on one side and Brandrick and Colston on the other - so it would be just as it is now!!

They are sticking their necks out as Baggies fans - they would not risk their relationship with the fans if they did not belive that Tony Hale was the man to lead the club into the future.
Read the full transcript of the interview with Ritchie Woodhall on Capital Gold Birmingham, including Tom Ross' introductory thoughts
The Club issues shareholders with official notification of the EGM, together with a letter from the three remaining directors - Joe Brandrick, John Wile and Don Colston - urging them to vote against the Resolution to remove Tony Hale as they feel it would not be in the best interests of the Club and its shareholders.
Barry Hurst writes to all shareholders to suggest that Paul Thomspon is chosen as Chairman to replace Tony Hale. This follows views aired at the two Moat House meetings that the removal of Hale, without swift action to appoint a successor, would leave a "void" that would harm the club in the run-up to the start of the new season. Read the full text of Barry's letter.
Tony Hale is interviewed on air by Tom Ross of Capital Gold Birmingham, and answers calls from listeners about the forthcoming EGM. Read the full transcript of the interview.
Paul Thompson writes a second letter to Shareholders to answer some of the points made by the letter from the "Independent Directors" of June 10th, and to add further weight to his arguments against Tony Hale by quoting more details of the Club's financial position over the last few years.
Director Joe Brandrick hits back by saying "The letter is full of innuendo. It highlights transfer losses, but fails to point out the profits on other players. There is nothing at all, only criticism of things that are totally untrue."
The Sunday Mercury reports that Paul Thompson is threatening to sue Tony Hale after Hale allegedly claimed on local radio that Thompson blocked a £2 million fund-raising scheme whilst he was on the Board. Thompson is currently in Florida, but Barry Hurst says that Thompson wants a public retraction by Hale otherwise "counsel will be instructed with a view to commencing proceedings against Mr Hale". Further extracts from the Sunday Mercury article
Shareholders Association Chairman Don Beddard forwards all shareholders a copy of a letter from Alan Reynolds to Paul Thompson, in which Reynolds attacks many of the statements made by Thompson in his letters and at his meetings. The letter concludes:
My reading of your appeal is: "Dear Shareholders, I am not a Fan (they don't matter), trust me because I am the largest minority shareholder from 'Hamelin' and I will look after my own interests"
Tony Hale writes a letter to all shareholders to put forward some of his plans for the future, and accuses Thompson of "distorting and misrepresenting circumstances".
He also invites shareholders to a meeting at the Belfry Hotel on 29th June at 7:30 pm to allow him to put forward some of his proposals.
Paul Thompson a third letter to Shareholders to explain the legal action he has been initiating against Tony Hale and to dismiss the accusations made by Hale on the Capital Gold phone-in (see the entry above for June 11th).
The Evening Mail carries a story saying that Lee Hughes will not sign his contract until after the EGM, and then only if Tony Hale carries on as Chairman.
The story appears to be a revenge attack by the player's agents for comments made about the signing of Mario Bortolazzi.
A report in today's Mercury by Bill Howell says that Lee Hughes will sign a new contract on July 9th regardless of who's Chairman, but there is no more detail than that. The report also says that Thompson has more support than Hale at the current time. Barry Hurst reckons that Thompson already can already count on 40% of the votes with Hale stuck between 25% and 30%. Hurst said: "All we need now is another 10% to get all the change we need." This, however, will be the toughest task of all. Hurst continued: "People can see that Tony Hale is adopting policies that are 2 years behind our man."
Hurst also attacked Alan Reynolds' letter, apparently distributed by the Shareholders Association: "Mr Reynolds is supposed to be a chartered accountant, but he makes several mistakes. He says Paul Thompson is only involved in West Bromwich Albion purely to make a tax saving on his 2 million pounds investment. He says he has saved £400,000 pounds, but he should know the maximum he could possibly have made is £20,000 pounds on Enterprise Investment Relief because it is limited to £100,000 pounds. His words are riddled with such misinformation. And it was bad judgement on Mr Beddard's part to circulate personal attacks and misleading information. Now I hope they are both man enough to apologise, not to us, but to the shareholders because it is important this issue is fought on true facts. Paul Thompson has never blocked, frustrated or delayed a rights issue. In fact, when he joined the Board, he outlined the importance of going down such a route. I find some of Tony Hale's comments incredible. Tony Hale says he has 2 directors in place to join his new board. If that is true, he should say who they are. Why is it that after 5 years he is suddenly making promises? I've worked with him before and I don't think this will happen."
Ceefax (West Midlands) reports that major shareholder Graham Waldron will back Tony Hale at the forthcoming EGM. However, it seems that the backing has not been all that easy to get:
"Waldron has only agreed to back Hale 'after receiving assurances that many shortcomings...within the club...would be rectified with maximum haste' "
The backing of Waldron, added to his own shares and those of current director Joe Brandrick, gives Hale just over 33% of the vote at the forthcoming EGM. Thompson, on the other hand, can count on just under 33% of the shares with the support of Hurst and Stapleton. So the decision rests in the hands of the 34% of the remaining shareholders, many of who are fans who bought shares in the club as a result of the reform of the constitution and the subsequent rights issue. The remainder would appear to be long-time shareholders with significant holdings (although not large enough to require declaration under Stock Market rules). It's possible that some of these other parties have already been canvassed by either Hale or Thompson, which may account for some of the claims of support made by the two camps.
Tony Hale has reportedly revealed the identity of his two mystery backers - they are Richard Thompson and Jim Driscoll.
Thompson (no relation to Hale's opponent) presided over QPR as they slipped from a respectable position in the Premiership to possible relegation candidates in Division One - a feat apparently achieved by selling their best players and not bringing in adequate replacements. Thompson was eventually removed after protests from QPR fans - their current Chairman has been quoted as saying he had received an approach from Thompson about getting involved in the Club again, but that accepting it would probably make him the most unpopular man in London. Since those days, however, Thompson has become involved with Leeds United - and the Club has made considerable progress both on and off the pitch, with their commercial operations now said to be starting to rival those of Manchester United.
Driscoll is a local man, based in Halesowen, who created the children's TV programme "Shoe People" and is said to have done some work with the Disney organisation. He is a dedicated Albion fan but, though wealthy, is perhaps not in the same league as Thompson - who is believed to be worth £400 million. Driscoll is believed to have wanted to invest money in the Club before, but for some reason either chose not to, or was not allowed to.
Tony Hale met with shareholders at the Belfry to put forward his plans for the future of the Club and answer any questions they might have; read the full report of the meeting here.
Paul Thompson writes a fourth letter to shareholders to summarise what he believes are the reasons for them to vote in favour of the resolution and dismiss Tony Hale from the Board. He also outlines the plan he put in front of the Board back in 1997, which proposed the raising of £10 million to strengthen the team, develop a new training ground, improve the Club's marketing strategy and replace the Rainbow stand and he points out that under five years of Tony Hale's leadership, none of these have been achieved.
Meanwhile, the Birmingham Post reports "widespread condemnation" of Thompson's appearance at Tony Hale's meeting last night. Obviously they were at a different meeting to the one we attended.
Paul Thompson attends a meeting of supporters at the Throstle Club in Halfords Lane together with fellow "Gang of Three" members Barry Hurst and Clive Stapleton. The Express and Star printed a report of the evening
Tony Hale writes a second letter to shareholders to dismiss the forthcoming EGM resolution as "unnecessary". He accuses Thompson of being responsible for a stream of "ill-prepared and badly construed letters" and points out that the action has now cost the Club £25,000 - money it can ill afford. He ends with an appeal to keep the Club in the hands of "Albion people".
Former Vice-Chairman Clive Stapleton also writes a letter to all shareholders, reaffirming his support for Paul Thompson and forwarding three letters that he feels shareholders should see. The letters are all related to the original "open" letter from Alan Reynolds to Paul Thompson (see under June 21st above). The first is a letter from another shareholder, Howard Martin, who criticises the actions of Don Beddard in circulating the letter from Alan Reynolds and his claim to represent the shareholders. The second is Paul Thompson's reply to the letter from Alan Reynolds, and the third is Paul Thompson's letter to Don Beddard asking him why he saw fit to circulate the letter from Alan Reynolds and requesting that Beddard circulate the retraction that he has asked Reynolds to make.
A report in the Birmingham Post has outlined how Albion sought guidance from the Takeover Panel over Paul Thompson's shareholding in the club. Under Stock Exchange rules, a group of shareholders deemed to be acting in concert, and carrying 30% or more of the voting rights, is required to make a mandatory bid for that company. PT's ownership of just over 25% of the shares plus Doreen Bramhall's 4.97% took them over the 30%.
No formal ruling was made by the Takeover Panel, but Doreen Bramhall sold 68 shares last Thursday, reducing her holding to 4.89%. This brings the total held by her and PT down to below 30%. Thompson said: "No-one has been acting in concert. The club referred to the Takeover Panel that Ms Bramhall and I were doing so, but it could be held that Messrs Hale (with 17% of the shares), Brandrick (7%) and Waldron (11.5%) were also acting in concert. The club are merely trying to make mischief ahead of next week's EGM."
Last week, we here at BOING composed a list of questions to try and pin down the two camps on their views on the past, present and future situation of the Club and help shareholders to decide which way to vote at Thursday's EGM. The questions were sent by fax to Paul Thompson and Tony Hale last Wednesday, and we had hoped to put up both of their sets of replies at the same time to avoid showing any bias or favouritism. We received Paul Thompson's replies by fax the next day, but despite sending another fax to remind him, we are still waiting to receive the answers from Tony Hale.
Paul Thompson has issued a press release which is expected to be in the Express and Star tonight and the Birmingham Post tomorrow - to make his final appeal to shareholders to vote for change at tomorrow's EGM.
The BOING mailing list conducted a poll to try and sense the general feelings about the EGM motion to remove Tony Hale from the Board. Given that the mailing list consists of shareholders and interested non-shareholders, the results from the two groups were counted separately. Of the shareholders, around 66% supported the motion to remove Hale, while the non-shareholders were slightly less sure with 61% backing the motion. It would seem that the fight is not yet over for either side.
One shareholder, who wrote personally to Don Beddard to express his dissatisfaction about the latter's actions over the course of the power struggle, has received a reply. Full text of both letters
The Showdown
It's EGM day, and The Express and Star has a whole load of stuff on their Web site about the impending vote, including a day by day diary of the events leading up to today. Inspired by anything here, lads?
Following a large amount of criticism of the Shareholders Association and their actions, and a number of people mentioning that this was the first time they'd actually heard from them, I managed to dig out the original introductory letter in which I first heard of them. It was sent by Dr John Evans in July 1996, primarily as an introduction to new shareholders, but it mentions the Association and gives the name and address of Don Beddard.
Finally, at a packed Gala Baths in West Bromwich, the EGM meeting took place. After a late start, caused partly by the large number of attendees (roughly 1000?) and partly by a rather disorganised system of collecting voting slips on entry to the meeting, both sides had their say - but no new trump cards were played as some may have expected. The final result:
| | | |
| --- | --- | --- |
| For the motion: | 37,826 votes | (43.26% of the total shares issued) |
| Against: | 42,829 | (48.98%) |
The motion was therefore not carried. Tony Hale survives as Chairman - by a narrow majority of 5003 (about 6% of the total number of shares). But I wouldn't call this a sweeping victory - given that he started 3% ahead from the numbers of shares in the large blocks, it seems he's only convinced just over half of the main body of shareholders to keep him in power. I'd call that a very, very strong warning. Full report of the meeting

The victor in last night's battle, Tony Hale, will be taking listeners calls tonight on BBC Radio WM at 6pm. I'll certainly be interested in what he has to say - because there's a general feeling that he's only just got away with it. While Thompson would have had time to put his plan together and implement it, Hale must now realise that he's on his last chance and that the promises made will have to be kept. I'm still keen to hear your views on the outcome for The Power Struggle Soapbox - keep 'em coming!
When the whole business started, I set out to make this THE place to come for information, news and views on the issue - and judging by the comments received, at least I managed to achieve that. Thanks again to everyone that's contributed articles, letters, comments and encouragement - now, I need a holiday.....
Meanwhile, Paul Thompson writes a final letter to shareholders to thank them for their support and to say how much he hopes that Tony Hale will bring the Club the success it deserves - but he also states that "I believe the vote at the EGM is the beginning and not the end" - something of a warning? He also mentions that he will be sitting in the Birmingham Road end behind the goal next season and looks forward to meeting up with shareholders again.
Epilogue
The Club accept an offer of £2.5 million for Kevin Kilbane, who travelled on the coach to the Grimsby match but was pulled from the team to enter negotiations on personal terms. From interviews on local radio, it becomes clear that neither Brian Little or Chief Executive John Wile were aware of the sale.
Although the sale is in line with comments made by Jim Driscoll at the Shareholders AGM about the Club's strategy to sell players in order to finance the short term debt they have at present, it's at complete odds with statements from Tony Hale about how the Club would not going to be forced into selling its best players, and that Hughes, Kilbane and Maresca were the key to its success.
Tony Hale resigns as Chairman of WBA following his admission in court that he lied about Paul Thompson blocking his attempts to bring funds into the Club and the settlement of the libel action brought by the latter (see the entry for June 20th above).
A Press Release is issued containing full details of the court statement.
Jim Driscoll resigns as a Director of WBA and has some harsh words to say about his Board colleagues, accusing them of acting like "an old boys club" rather than a public limited company. Despite being on the Board, he was apparently left out of discussions on major issues such as the Kilbane sale and finances in general. Driscoll had recently been quoted saying that as Hale had never told him that the £2.6 million promised in the EGM run-up was no longer available, he'd been working under the assumption that it still was...
Don Colston resigns as a Director of WBA. Quoted in the Birmingham Post, Colston had the following to say about his former colleagues: "I put forward a proposal that Paul Thompson be invited to become a director again and also become the Chairman, but it wasn't accepted. I was told that Joe Brandrick had become the acting Chairman until the situation resolved itself. Joe's a great guy, and very experienced, but I felt we needed to be more positive and act quickly. I haven't been too happy with the way things have been handled in the past and the club is in turmoil as a result."
Paul Thompson is finally appointed Chairman of WBA by the few remaining Directors. At the Press Conference, it was also announced that former Directors Barry Hurst and Clive Stapleton would be rejoining the Board, although no comment has yet been forthcoming on the future of either Tony Hale or Joe Brandrick.
Thompson was interviewed by BBC Radio WM after the conference, and Chris Wright kindly produced a transcription of the comments
Tony Hale resigns as a Director of the Board of WBA plc, finally ending the struggle that began just over a year ago. Read the full text of his resignation letter here
Related Articles
The 1999 Power Struggle Soapbox