Dear Tiger Times
OB, there's only One OB...

The Tiger Times is the quarterly publication of the Tigers, the Odense Boldklub fan club. "TT" is a smartly laid out and colourful A4 publication given away free as part of the annual membership fee. Their next edition will include something rather like this:

My knowledge of OB before July 2003 is limited. So limited that it?s restricted to a single match v West Brom some four years earlier played at Greve. Da Bla Bolge, I recall

were in some awe about this Super League outfit and told us that they would beat WBA. OB looked big. OB looked strong. And they wore black. OB went shoulder to shoulder physically with our team. They won the physical battle and they won the game 2-1. During the same week, OB were to play Bolton Wanderers at home. I consulted with Benny, who runs Da Bla Bolge. ?Why would you go there?? he said. ?It?s a big, ugly industrial town with nothing to see.? Not knowing any better, I stored this observation away for future reference. Odense ? not worth visiting. Check.

Two years ago, I was one of a group of 30 Albion supporters on a train heading for Aabenraaa. The only team who would agree to play that day was HFK Sonderjylland and thus we travelled nearly the full width of Denmark to see this friendly. The travelling took longer and definitely cost more than any competitive match back in England but we were not a sexy club then and more easily pushed around. Why am I telling you all this? Merely because the train stopped at Odense both there and back and I have a vague memory of peering out of the windows looking for factories and belching chimneys...

I read on a website that Odense is a passionate football town with three clubs. Well, yes... sort of... but two of those clubs are so small they would be completely ignored back in England. I could not take B1909 seriously once I saw that their best seats are actually garden benches. I know now that Odense is much the same as the rest of Denmark. It?s quiet, orderly, well-organised, full of bikes, clean, safe, lots of friendly people... and the lager costs far too much.

Ah beer, a universal language. I was part of a dozen strong Baggies having a leisurely afternoon drink at Ryans, the Irish bar. On the next table sat two supporters of OB and we started talking... as football supporters invariably do. Fortunately, their English was immaculate, for our collective knowledge of Danish is nearly non-existent. Ask any of us to come up with five Danish words and we?d struggle. Ask Baggies followers to name five famous Danes without mentioning any sportsmen or monarchs... well that?s another story but a happier one because two Albion fans did manage five.

Generally speaking, WBA people are very laidback, approachable, world weary and hopefully friendly. So that?s maybe partly why we got on so well with what we quickly came to imagine as our hosts, a terrifically affable pair themselves though they don?t wish to be named. With logic that can only be Danish, pictures are OK of this hugely familiar couple, but no names, we?re Danish huh? Still, they were great company and on a practical level make life much easier. We come from an area of England called the Black Country where we have a dialect all of our own, a very old version of English that goes back to the days of William Shakespeare. Most of the rest of England can?t understand us so what chance a Danish taxi company? At this point, I would have included a few examples of Black Country words but the translator of this piece has expressly forbidden me to do so. Thus, I cannot mention ?ar?, ?cowin? ?, ?woolly jed? or ?bostin?. ? Maybe next year.

Back in England there are two holies for a football supporter. One is your home, which must be protected by double locks, alarms, bars and security lights at all times. You do not invite strangers around. You do not give your telephone number to anyone you do not know.

The other holy is the Kop end of your ground, that special place where passionate fans noisily support their team. Nothing is written down but it?s universally understood that it?s your Kop for your supporters only. At the Hawthorns, home of West Bromwich Albion, we have two ? the ?Brummie Road? and the ?Smethwick End? who try to outdo each other but both are only open to Albion people. Twelve months ago, our local rivals Aston Villa played their Inter Toto Cup matches at the Hawthorns. Many Albion supporters went to the games solely to sit in their own seats to ensure no smelly Villa bottom sat on them.

So imagine our collective surprise when a full dozen of us were invited round to this anonymous couple?s flat for nosh and beer on the eve of the OB v WBA friendly. It would just never happen in England and we were quite overwhelmed by this act of generosity.

We grabbed three taxis and headed on out to the home of I... oops nearly gave it away there. I have to say that they really did us proud; their apartment is situated in a block of flats in the town centre, no graffiti, and definitely no nasty smells on the staircase, unlike back home. Once there, bottles of beer thrust into our hands, we awaited the spread. When the food appeared, about half an hour later, I reckon our mouths must have dropped about six feet; masses of roast pork, potato wedges, a vegetable stew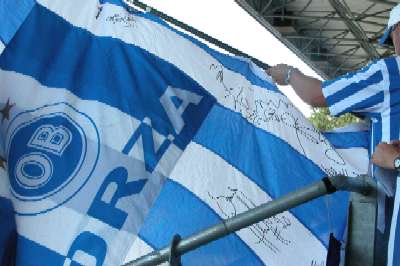 affair, meatballs, enough pasta to keep the Italian army going for years, another cheesy-potato dish - all rounded off nicely by still more beer! How many Baggies supporters, I wonder, would invite around a dozen Danes into their homes for a similar pre-match repast, having met for the first time three days beforehand, and in a pub? None, frankly.

There were more surprises to come. What immediately struck me about OB Odense?s spiritual home was the sheer modernity and neatness of the place. Just being what we would consider back home as a ?proper ground? enhanced our pleasure considerably. Though with proper grounds comes proper ground hassle, there was a considerable stewarding presence at the turnstiles enforcing a ban on spectators bringing their own refreshments into the place. Hey, this is an English trick. We know this game.

?Come and join us in our stand? encouraged our hosts. That?s unnatural! To be invited into somebody else?s holy spot was against all my natural instincts. It?s not our place, it?s rude even, a bit like entering a mosque still wearing shoes. But an invite is an invite. I could muster just eight of our number; the rest preferred their tribal instincts to stay with their own. We eight plonked ourselves in the middle of the home end, right behind the goal. No dirty looks from those around us, just a few puzzled ones.

At least our vantage-point gave us a close-up insight into the matchday rituals of Danish footie supporters, which were not that dissimilar to ours. My goodness, if noisiness and fervour were ever made an official adjunct to the beautiful game, then this lot would surely have represented their country at it; for the entire 90 minutes their entire enclave became a booze-strewn, scarf-twirling, flag-waving, clapping, chanting and singing place of homage to their heroes in the royal blue stripes. One always makes comparisons with one?s own experiences. I?ve been to literally hundreds of friendlies back in England and rarely if ever have I encountered such passion at a non-competitive match. Or at most Premier League matches!

During the course of the game, several all-too-familiar songs were aired by the home crowd, a fair proportion of which were in English, e.g: ?OB HERE, OB THERE, OB EVERY ******* WHERE!? plus the ever so familiar ?You are my OB, my only OB, you make me happy when skies are grey...?; others, performed in Danish, were real raves from the grave. I remember first singing one of these gems in particular, which went to the tune of ?London Bridge Is Falling Down?, around 1967! Another that stuck in my mind was the one that went to the tune of ?Chirpy - Chirpy - Cheep Cheep? ? aw, you know, sung in English, it goes, ?Where?s your..................gone?? (fill in blank as appropriate), accompanied by the rhythmical thump of a big bass drum. As for events on the pitch, although they were being paid handsomely to do it, I began to really feel sorry for our team, as the weather was scorching out there, the sun relentlessly beating down from onto the sweating performers below.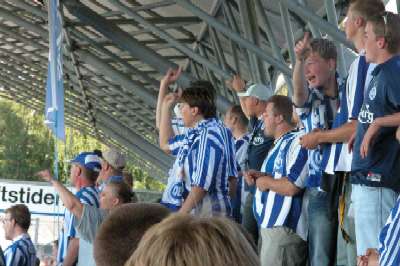 Unsurprisingly, water bottles were in evidence every time there was a stoppage, while off the pitch, our followers (and theirs, of course!) followed their example by constantly slaking their thirsts with copious draughts of lager; no irksome rules about not drinking alcohol in your seat in this country!

Albion took the lead thanks to a penalty. Our gallant eight managed some kind of co-ordinated song between us. Within seconds, OB cut Albion?s defence to ribbons and equalised. Of course, the home side?s superior passing skills then began to exert their influence on the game, and it came as no surprise to me to see them take the lead later on ? also from a penalty. They were the better side by far, and emerged from the encounter worthy winners. And didn?t those OB supporters take the mick out of us! Not that we were worried ? as I tried to explain at the time, Albion can and do lose to anybody. After you?ve lost a Cup match to a Division Five side... err... several times actually... then being knocked over in a friendly is no problem. But come to the Hawthorns when we are 20,000 and not 8 and then we?ll put on a show for you.

What did come as a surprise, come the final whistle, though, were the numerous bone-mangling handshakes and expressions of ?good luck for next season? from our OB Brummie Road End counterparts; they all applauded our (somewhat ragged) vocal efforts, and we theirs. Once outside the ground, more handshakes from the locals and best wishes for the season.

I could add much more about the later exchange of souvenirs and how one of the anonymous people acquired an Albion training top, how we were seen off at the railway station in another extraordinary gesture but I imagine I?ve outstayed my welcome (and the translator?s patience) already. Our trip was elevated from the routine to the magnificent thanks to the intervention of the Tigers. Simply breathtaking stuff. There?s only one OB. If Albion travels to Denmark next season, look out for us. This time though, I think we bring our own beer.

- Simon Wright